Voices in the Belly: The Ear of Critical Thought
Cecilia Sjöholm

Södertörn University
Keywords:
Arendt, Critical thought, inner voice, Kant, "enlarged thought"
Abstract
In present times, around the globe, we are witnessing a public sphere in crisis. Thus, one of the great challenges for critical thought today is to be able to maintain sound methods of reflection when public space, which since the Enlightenment has been called upon to maintain a legacy of critical reflection and freedom, appears undermined. What means do we have to engage in the world and develop critical thought? Living as we are again in Dark Times, as Hannah Arendt named the postwar era, we need to explore new grounds for critical thought. Here the "inner voice" presents itself, a thought that is socially, ethically, or politically engaged, broadly speaking. It does not look for truth in a philosophical sense, but seeks to engage in thought processes.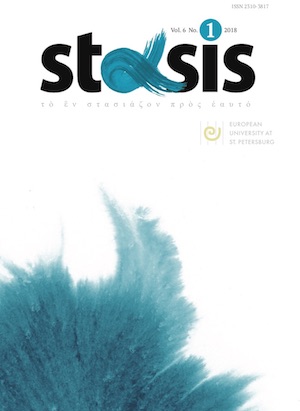 How to Cite
SjöholmC. (2018). Voices in the Belly: The Ear of Critical Thought. Stasis, 6(1). Retrieved from http://stasisjournal.net/index.php/journal/article/view/80
This work is licensed under a Creative Commons Attribution 4.0 International License.