Liquid Museum: "A netu tetia takogo muzeia" [Lady, there is no such museum]
Dragan Kujundžić

University of Florida
Keywords:
Genealogy of St Petersburg, Kunstkamera, museum, cinema, technical reproducibility, digital technology, Hermitage, Aleksander Sokurov, Sergey Shnurov
Abstract
In recent years I have started making theoretico­mediatic installations, which try to create synergism between theoretical thought and mediatic performance, a new kind of theoretical and social space, or sphere, if you wish, which is responsive to the extreme mobility of new technologies that constitute this space. They constitute it, while at the same time un-working it in ways that have been dormant throughout the history of culture, but are now reaching new levels of speed and expediency. My two recent films, parts of which are related to museums, are of particular interest to this essay­film­installation: the first, Cinemuse: Selfie With Sokurov, with Aleksander Sokurov, the second, v Pitere–pet' (In Peter–a song, English title: Windows to Europe. Sergey Shnurov) (the opening was at the Poslanie k cheloveku [Message to man] film festival in St Petersburg in September 2017), with Sergei Shnurov. You have no doubt recognized him in the second, Russian part of my title also featuring a museum. The inextricable collusion between preservation in the museum, technologies of archivization, and ideology, permeating the museum qua public sphere, will be analyzed in light of my two films and on the examples from the work of Alexander Sokurov and Sergey Shnurov.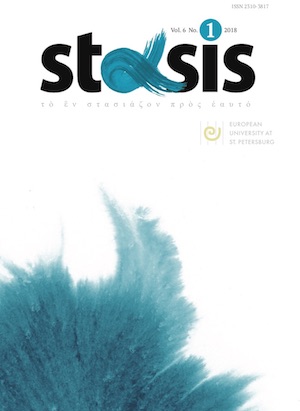 How to Cite
KujundžićD. (2018). Liquid Museum: "A netu tetia takogo muzeia" [Lady, there is no such museum]. Stasis, 6(1). Retrieved from http://stasisjournal.net/index.php/journal/article/view/78
This work is licensed under a Creative Commons Attribution 4.0 International License.