W. T. Chu's Jesus, the Proletarian
Keywords:
Chinese Christian materialism, Jesus, Marxism, the proletarian, W. T. Chu
Abstract
Best known as a biblical scholar, the two main works by W. T. Chu (Zhu Weizhi 朱維之 1905–1999), Christianity and Literature and Twelve Lectures on Biblical Literature are regarded as classics in the field. But Chu also used his extensive knowledge of the Bible to portray Jesus in his often overlooked work Jesus, the Proletarian, a book deserved of more attention than it has so far received. Touching on many issues central to liberation theology and Christian socialism, Jesus, the Proletarian has major implications for our evaluation not only of Chu himself, but also for our understanding of Christian socialism in pre-Communist China, the social and cultural milieu in which it developed, and its influence on how Christians at the time understood the Bible. In contrast to the highly theological approach of T. C. Chao's The Life of Jesus, Chu's Jesus, the Proletarian attempts to sum up the revolutionary spirit of Christian thought of the time, and can be grouped together with Zhang's The Revolutionary Carpenter and N. Z. Xie's The Gospel of the Oppressed as one of the three main works on Christian socialism in China. This article examines Chu's oft-overlooked work, focusing on how he applies a Marxist perspective to his portrayal of Jesus, as well as his ideas on how Christianity has historically been misappropriated and used as a tool of capitalist and imperialist aggression. The article then discusses the reasons why this portrayal of Jesus as a liberator of the oppressed was published in 1950, only to fall into obscurity soon thereafter.
References
Chu, W.T. (1929) [Bai Chuan, pseud.]. "Art and Truth: Christianity and the Marxist View of the Arts." Tian Feng 7.16: 3–15.

Chu, W.T. (1935). A Compilation of Essays on Art and Religion. Shanghai: Associated Press of China.

Chu, W.T. (1940). Christianity and Literature [1992]. Shanghai: Shanghai Books.

Chu, W.T. (1950). Jesus, the Proletarian. Shanghai: Society for the Diffusion of Christian and General Knowledge Among the Chinese.

Chu, W.T (1989) "Autobiography." In Contemporary Literary Translators, ed. Wang Shoulan, 188–192. Beijing: Beijing University Press.

Chu, W.T. and Wang Zhixin (1948). Jesus Christ. Beijing: Zhonghua Book Company.

Engels, Friedrich. (1929) "On the History of Early Christianity" [1894–95]. In Religion, Philosophy, and Socialism. Trans. Lin Chaozhen. Wuhan: Hubin Books.

Guo Moruo (1936). The Sacred Family. Beijing: Renmin Literature Press.

Hevia, James L. (2003). English Lessons: The Pedagogy of Imperialism in Nineteenth-Century China. Durham, NC: Duke University Press.

Kautsky, Karl (1932). The Foundations of Christianity. Trans. Tang Hao and Ye Qifang. Shanghai: Society for Chinese National Glory.

Lu Longguang and Wang Lixin, eds. (2007). The Bible as Literature and Culture: W. T. Chu Felicitation Volume. Tianjin: Nankai University Press.

Lin Ronghong (1998). "Models of Christian Theology." In A Half Century of Chinese Theology: 1900–1949, ed. Wing-Hung Lam, 102–31. Hong Kong: China Graduate School of Theology.

Pasolini, Pier Paolo (2008). Conversations with Pier Paolo Pasolini. Beijing: New Star Press.

Shen Sizhuang (1934). A New History of Socialism. Shanghai: Youth Press.

Wu Leichuan (1940). Mozi and Jesus. Shanghai: The Association Press of China.

Yonezawa Shozo (1928). The Proletarian Jesus. Tokyo: Methodist Publishing House. Zhang Shizhang (1939). The Revolutionary Carpenter. Shanghai: Christian Cultural Society.

Zhao Zichen (1935). The Life of Jesus. Shanghai: Youth Press.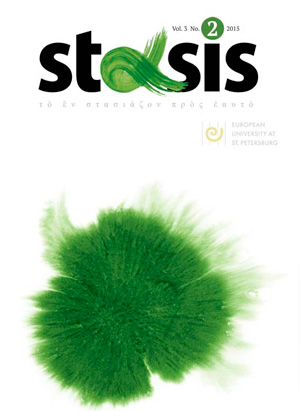 How to Cite
PaC. K. (2015). W. T. Chu's Jesus, the Proletarian. Stasis, 3(2). Retrieved from http://stasisjournal.net/index.php/journal/article/view/40
Copyright (c) 2015 Stasis
This work is licensed under a Creative Commons Attribution 4.0 International License.