A Concrete Lenin in a Concrete Situation
Abstract
Book review: Tariq Ali, The Dilemmas of Lenin: Terrorism, War, Empire, Love, Revolution
London: Verso, 2017, 384 pp., ISBN 9781786631107
References
Ali, Tariq, and Suzi Weissman (2017). "The Legacy of Vladimir Lenin." Jacobin Magazine, May 25, 2017. https://www.jacobinmag.com/2017/05/dilemmas­vladimir­lenin­tariq-ali-russian-revolution-democracy.

Lunacharsky, Anatoly (1925). Geroism i individualism [Heroism and individualism],Moscow: Novaya Moskva.

Mayakovsky, Vladimir (1972). "Vladimir Ilyich Lenin" [1924]. In Poems. Trans. Dorian Rottenberg, 175–250. Moscow: Progress.

Plekhanov, Georgi (1961). "On the Role of the Individual in History" [1898]. Selected Works of G.V. Plekhanov, Vol. II. London: Lawrence & Wishart. https://www.marx-ists.org/archive/plekhanov/1898/xx/individual.html.

Zdravomyslova, Elena, and Anna Temkina (2003). "Gosudarstvennoe konstruirovanie gendera v sovetskom obshchestve" [State construction of gender in Soviet soci-ety]. Zhurnal issledovaniy sotsialnoy politiki [Journal of social policy studies] 3/4: 299–321.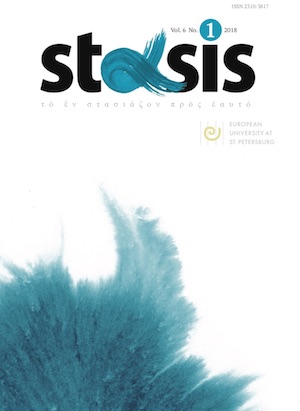 How to Cite
Simakova, M. (2018). A Concrete Lenin in a Concrete Situation. Stasis, 6(1). https://doi.org/10.33280/2310-3817-2018-6-1-192-198
Copyright (c) 2018 Stasis
This work is licensed under a Creative Commons Attribution 4.0 International License.