Ab Realibus ad Realiora: Maria Chernysheva's Mimesis in the Visual Arts
Artemy Magun

European University at St Petersburg
Abstract
Book Review: Maria Chernysheva, Mimesis v izobrazitel'nom iskusstve: ot grecheskoi klassiki do frantsuzskogo siurrealizma (Mimesis in visual arts from Greek classic to French surrealism)
St Petersburg: St Petersburg State University, 2014, 392 pp., ISBN 978-5-288-05511-9
References
Panowsky, Erwin (1968). Idea: A Concept in Art Theory. Columbia: University of South Carolina Press.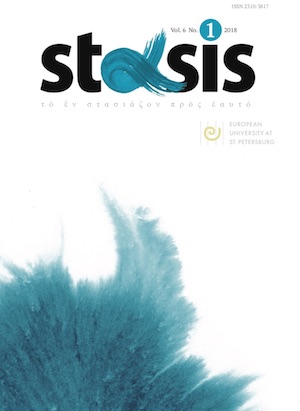 How to Cite
Magun, A. (2018). Ab Realibus ad Realiora: Maria Chernysheva's Mimesis in the Visual Arts. Stasis, 6(1). https://doi.org/10.33280/2310-3817-2018-6-1-180-185
Copyright (c) 2018 Stasis
This work is licensed under a Creative Commons Attribution 4.0 International License.