Мarx Against Marxism, Marxism Against Marx
Keti Chukhrov

Alexei Penzin

Valery Podoroga
Abstract
A Talk with Valery Podoroga on Soviet Philosophy
References
Balibar, Étienne (2015). "Althusser and Communism." Crisis & Critique 2.2: 9–23.

Bely, Andrei (1982) Pochemu ia stal simvolistom i pochemu ia ne perestal im byt' vo vsekh fazakh moego ideinogo i khudozhestvennogo razvitiia [Why I became a symbolist and why I remained a symbolist in all stages of my intellectual and artistic development]. New York: Ardis.

Grushin, B.А. (1961). Ocherki logiki istoricheskogo ussledovaniia. [Essays on the logic of historical inquiry] Moscow: Vysshaya shkola.

Hegel, G. W. F. (1977). Phenomenology of Spirit. Trans. A. V. Miller. Oxford: Oxford University Press.

Ilyenkov, Evald Vasilevich (1962). "Ideal'noe." [The ideal]. In Filosofskaia entsiklopedia [Encyclopaedia of philosophy] Vol 2, 195–99. Moscow: Sovetskaya entsiklopediia. Ilyenkov, Evald Vasilevich (2009). "Dialektika ideal'nogo" [Dialectics of the ideal]. Logos 1.69: 6–62.

Khromchenko, Matvei (2004). Dialekticheskiie stankovisty. [Dialectical "Easelists"] Moscow: Shkola kul'turnoi politiki.

Kojève, Alexander (1980). Introduction to the Reading of Hegel. Lectures on Phenomenology of Spirit. Cornell: Cornell University Press.

Lifshitz, Mikhail (2003). Dialog s Eval'dom Il'enkovym. Problemy ideal'nogo. [A dialogue with Evald Ilyenkov. Problem of the ideal] Мoscow: Progress-Traditsiia.

Lukács, Georg (1971). History and Class Consciousness. Studies in Marxist Dialectics, trans. Rodney Livingstone, Cambridge: MIT Press.

Mamardashvili, Merab (1968). Formy i soderzhanie myshleniia. K kritke gegelevskogo ucheniia o formakh poznaniia. [The forms and the content of thought. Towards a critique of Hegel's doctrine of forms of cognition] Moscow: Vysshaya shkola.

Mamardashvili, Merab (1986). "Analysis of Consciousness in the Works of Marx.'' Studies in Soviet Thought 32: 101–20.

Mamardashvili, Merab (2016). Vstrecha: Merab Mamardashvili—Lui Alt'iusser. [The En­ counter. Correspondence between Merab Mamardashvili and Louis Althusser] Moscow: Fond Meraba Mamardashvili.

Podoroga, Valery (2010). Apologiia politicheskogo [Apology of the political]. Мoscow: Vysshaya shkola.

Podoroga, Valery (2016). "Mikhail Lifshitz: Orthodox Marxism Versus Modern Art," a public Lecture at the Garage Museum, www.youtube.com/watch?v=zXtqtMU2vgI Shchedrovitsky, G.P. (2004). Na doskakh. Publichnye lektsii po filosofii [On the boards. Public lectures in philosophy] Moscow: Shkola kul'turnoi politiki.

Zinoviev, Aleksander A. (2002). Voskhozhdeniie ot abstraktnogo k konkretnomy (na materiale «Kapitala» Marksa). [Ascending from the abstract to the concrete (A reading of Marx's Capital)]. Moscow: IF RAN.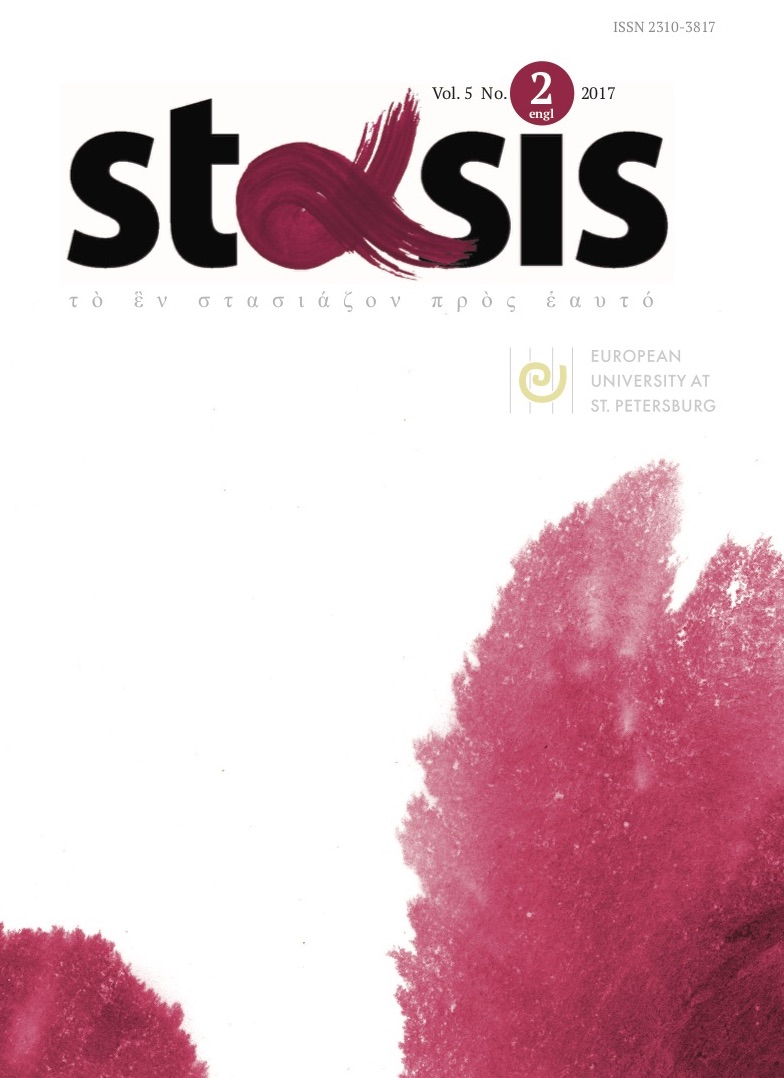 How to Cite
Chukhrov, K., Penzin, A., & Podoroga, V. (2017). Мarx Against Marxism, Marxism Against Marx. Stasis, 5(2). https://doi.org/10.33280/2310-3817-2017-5-2-266-288
Copyright (c) 2017 Stasis
This work is licensed under a Creative Commons Attribution 4.0 International License.