You Have to be Stupid to See That
Slavoj Žižek

University of Ljubljana
Keywords:
ideology, violence, drugs, religion, war, revolution
Abstract
The article presents a philosophical analysis of a current historical situation, in which humanity is facing the urgency of a radical politico­economic change, a need to establish a new mode of relating to our environs, which can be understood as civilizing civilizations, or imposing universal solidarity and cooperation among all human communities. This task is rendered all the more difficult by both the ongoing rise of sectarian fundamentalist violence, and its (apparent) opposite, that is, cynical indifference. Addressing Marx's well-known characterization of religion as the "opium of the people," this article shows, using the most real examples of our social and political reality, how ideology functions and how it affects our ideas of equality and freedom.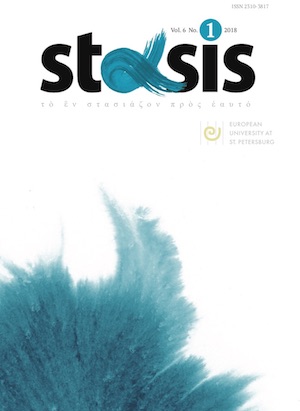 How to Cite
ŽižekS. (2018). You Have to be Stupid to See That. Stasis, 6(1). Retrieved from http://stasisjournal.net/index.php/journal/article/view/75
This work is licensed under a Creative Commons Attribution 4.0 International License.