The "Strangely Apolitical" Politics of Tora Lane's Platonov
Abstract
Book review: Tora Lane. Andrey Platonov: The Forgotten Dream of the Revolution
Lexington Books, 2018, 160 p. ISBN 1498547753
References
Brooks, Joan Jonathan (2015). "Golaia zhizn' literaturnosti i liricheski neomaterializm Andreia Platonova" [The bare life of literariness and Andrei Platonov's lyrical neomaterialism].
Translit 17: 68–77.
Brooks, Joan Jonathan (2016) Greetings Pushkin!: Stalinist Cultural Politics and the Russian National Bard. Pittsburgh, PA: University of Pittsburgh Press.
Brooks, Joan Jonathan (2018) "Postsocialist Platonov: The Question of Humanism and the New Russian Left." In The Human Reimagined: Posthumanism in Russia. Ed. Colleen McQuillen and Julia Vaingurt, 219–43. Boston: Academic Studies Press.
Chubarov, Igor' (2014). Kollektivnaia chuvstvennost': Teorii i praktiki levogo avangarda [Collective sensoriality: theories and practices of the left avant-garde]. Moscow: Vysshaia shkola ekonomiki.
Cieply, Jason (2020). "The Enthusiastic Objectifications of Skaz: Mikhail Zoshchenko and the "simple-souled" Soviet Reception of Jazz." The Russian Review 79 3: 389–14.
Fitzpatrick, Sheila (2007). "Revisionism in Soviet History." History and Theory 46.4: 77–91.
Flatley, Jonathan (2008). Affective Mapping: Melancholia and the Politics of Modernism. Cambridge, MA: Harvard University Press.
Halfin, Igal, and Jochen Hellbeck (1996). "Rethinking the Stalinist Subject: Stephen Kotkin's 'Magnetic Mountain' and the State of Soviet Historical Studies." Jahrbücher für Geschichte Osteuropas 44.3: 456–63.
Hegel, Georg Wilhelm Friedrich (1907). Phänomenologie des Geistes [Phenomenology of spirit]. Ed. Georg Lasson. Leipzig: Dürr'schen Buchhandlung.
Hegel, Georg Wilhelm Friedrich (1977). Phenomenology of Spirit. Trans. A. V. Miller. Oxford: Oxford University Press.
Hellbeck, Jochen (2006). Revolution on My Mind: Writing a Diary Under Stalin. Cambridge, MA: Harvard University Press.
Inozemtseva, E. (1971). "Platonov v Voronezhe" [Platonov in Voronezh]. Pod"em 2: 91–103.
Jameson, Frederic (1994). The Seeds of Time. New York: Columbia University Press.
Khazanov, Pavel (2018). "Honest Jacobins: High Stalinism and the Socialist Subjec-
tivity of Mikhail Lifshitz and Andrei Platonov." The Russian Review 73.4: 2–27. Kornienko, N. (1993). "Istoriia teksta povesti Vprok i iazyk otrechenii Platonova" [The history of the text of the novella, Vprok, and Platonov's language of disavowals] Istoriia teksta i biografiia A. P. Platonova [The history of text and A. P. Platonov's biography] (1926–1946). Zdes' i teper' 1: 150–70.
Kotkin, Stephen (1995). Magnetic Mountain: Stalinism as a Civilization. Berkeley: University of California Press.
Lane, Tora (2018). Andrey Platonov: The Forgotten Dream of the Revolution. Lantham, MD: Lexington Books.
Lukács, Georg (1937). "Emmanuil Levin." Literaturnoe obozrenie 19–20: 55–62. Magun, Artem (2010). "Otritsatel'naia revoliutsiia Andreia Platonova" [Andrei Platonov's negative revolution]. Novaia literaturnaia obozrenie 206: 65–95.
Nietzsche, Friedrich (1995). Thus Spoke Zarathustra. Trans. Walter Kaufmann. New York: Modern Library.
Platonov, Andrei (2000). Zapisnye knizhki: Materialy k biografii [Notebooks: materials towards a biography]. Ed. N. V. Kornienko. Moscow: IMLI RAN.
Platonov, Andrei (2004a). "K nachinaiushchim proletarskim poetam i pisateliam" [To the beginning proletarian poets and writers]. Sochineniia [Works], Vol. 1.2, ed. N. V. Kornienko, 8–12, 316–17. Moscow: IMLI RAN.
Platonov, Andrei (2004b). "Kul'tura proletariata" [The culture of the proletariat] Sochineniia [Works]. vol. 1.2, ed. N. V. Kornienko, 90–100. Moscow: IMLI RAN.
Platonov, Andrei (2004c). "Zhizn' do kontsa" [Life to the end]. Sochineniia [Works], vol. 1.2, ed. N. V. Kornienko, 180–83. Moscow: IMLI RAN.
Platonov, Andrei (2009). Vprok: Bedniatskaia khronika" [For future use: a poor peasant's chronicle] In Efirnyi trakt: Povesti 1920-kh—nachala 1930-kh godov [Ether tract: novellas of the 1920s and the beginning of the 1930s, ed. N. M. Malygina, 284–350. Moscow: Vremia.
Platonov, Andrei (2011a), "O pervoi sotsialisticheskoi tragedii" [On the first social- ist tragedy] In Fabrika literatury: Literaturnaia kritika, publitsistika [Factory of literature: literary criticism, publicistic writing], ed. N. V. Kornienko, 640–44. Moscow: Vremia.
Platonov, Andrei (2011b). Schastlivaia Moskva [Happy Moscow]. Schastlivaia Moskva: Ocherki i rasskazy 1930-x godov [Happy Moscow: sketches and stories of the 1930s], ed. N. V. Kornienko, 11–110. Moscow: Vremia.
Rosenberg, Jordana (2011). Critical Enthusiasm: Capital Accumulation and the Transformation of Religious Passion. Oxford: Оxford University Press.
Seifrid, Thomas (1992). Andrei Platonov: Uncertainties of Spirit. Cambridge: Cambridge University Press.
Skakov, Nariman (2012). "Ekphrastic Metaphysics of Dzhan." Ulbundus 14: 76–92. Lévi-Strauss, Claude (1962). The Savage Mind. Trans. Anonymous. Chicago: University of Chicago Press.
Timofeeva, Oxana (2012). History of Animals: An Essay on Negativity, Immanence and Freedom. Maastricht: Jan van Eyck Academie.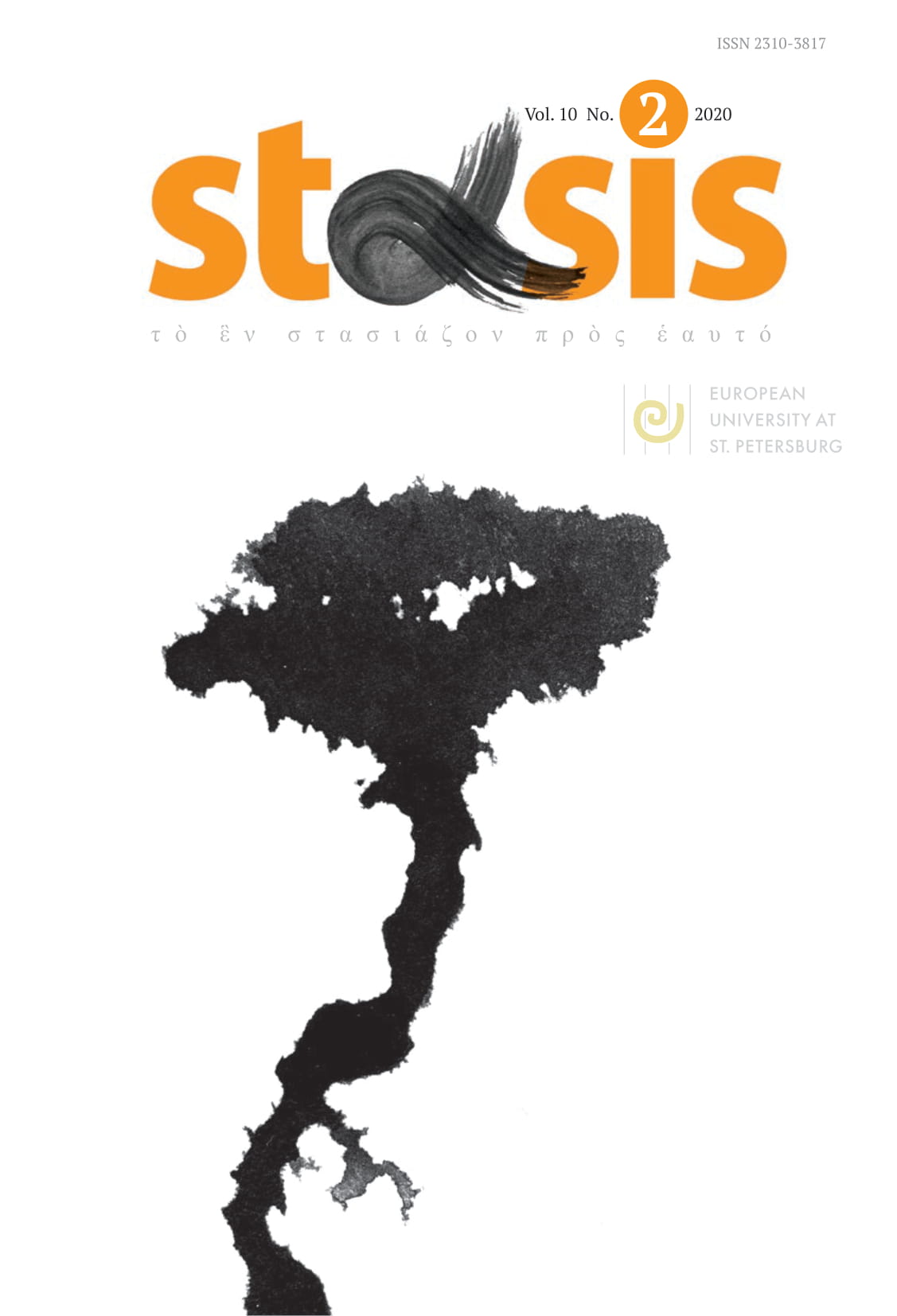 How to Cite
CieplyJ. (2021). The "Strangely Apolitical" Politics of Tora Lane's Platonov. Stasis, 10(2). Retrieved from http://stasisjournal.net/index.php/journal/article/view/183
Copyright (c) 2020 European University at St Petersburg
This work is licensed under a Creative Commons Attribution 4.0 International License.