Если не танцевать, можно что-то заметить
Abstract
Book review: Timothy Morton. Humankind: Solidarity with non-human people.
Verso Books, 2017, 224 p. ISBN 9781786631336
References
Дескола, Ф. (2012). По ту сторону природы и культуры. М.: Новое литературное обозрение.
Маркс, К. (1951). Критика готской программы. Л.: Государственное издательство политической литературы.
Мортон, Т. (2019а) [2013]. Гиперобъекты: Философия и экология после конца мира. Пермь: Гиле Пресс.
Мортон, Т. (2019б) [2018]. Стать экологичным. М.: Ад Маргинем Пресс. Хайнрих, М. (2019). «Капиталу» 150 лет—и это не конец. Бессистемные примечания к бесконечной истории. Логос, 29 (6): 23–46.
Bennett, J. (2015). Systems and things: On vital materialism and object-oriented philosophy. The nonhuman turn, 223–239.
Brown, N. (2013). The Nadir of OOO: From Graham Harman's Tool-Being to Timothy Morton's Realist Magic: Objects, ontology, causality. Parrhesia 17: 62–71.
Lange, M. (2012). The Ecological Thought. Journal of Applied Philosophy 29 (4): 378–379.
Moore, J. (2015). Capitalism in the Web of Life: Ecology and the Accumulation of Capital. Verso Books.
Morton, T. (2010). The Ecological Thought. Harvard University Press.
Saito K. (2014). Marx' Fraas-Exzerpt und der neue Horizont des Stoffwechsels Marx-Engels-Jahrbuch 2014: 117–140.
Wolfendale, P. (2014). Object-Oriented Philosophy: The Noumenon's New Clothes. Lulu Press.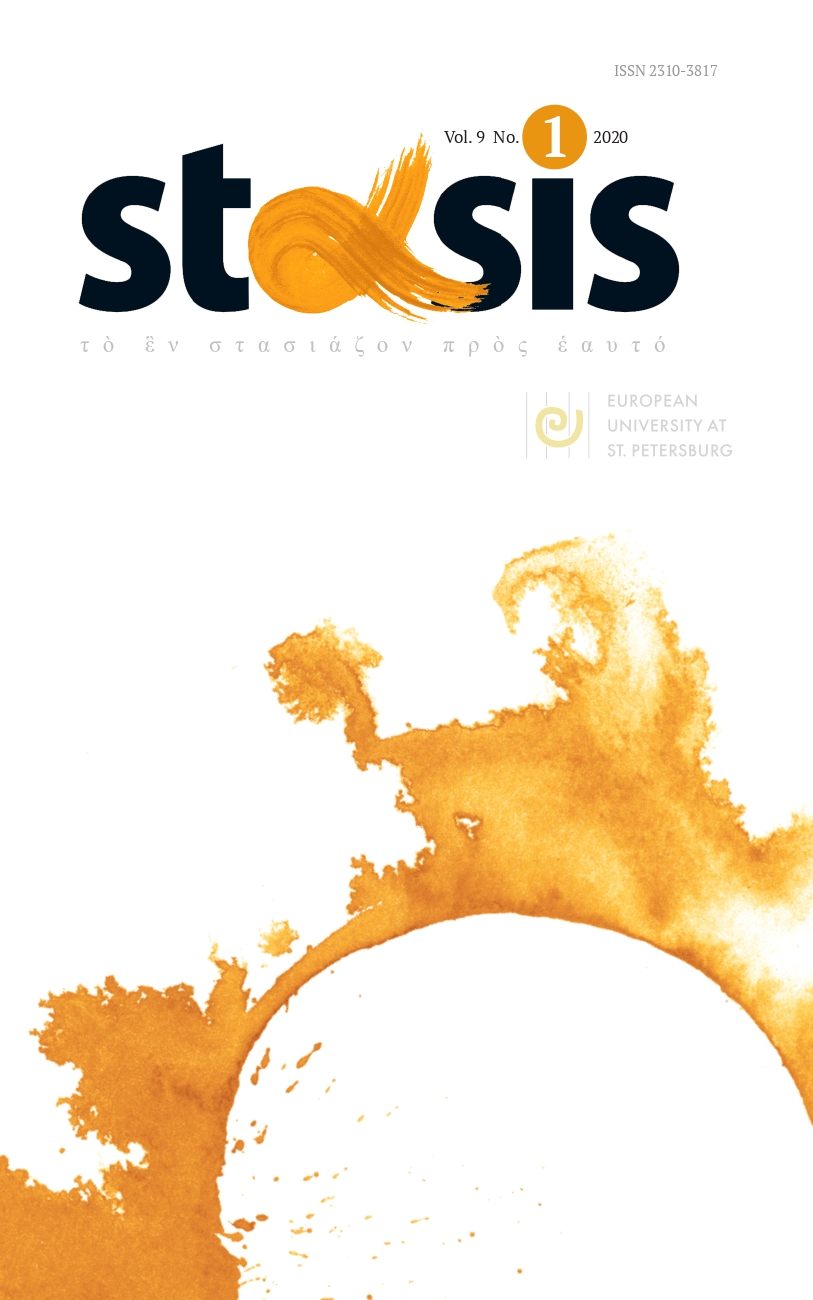 How to Cite
AwagjanA. (2020). Если не танцевать, можно что-то заметить. Stasis, 9(1). Retrieved from http://stasisjournal.net/index.php/journal/article/view/168
Copyright (c) 2020 European University at St Petersburg
This work is licensed under a Creative Commons Attribution 4.0 International License.